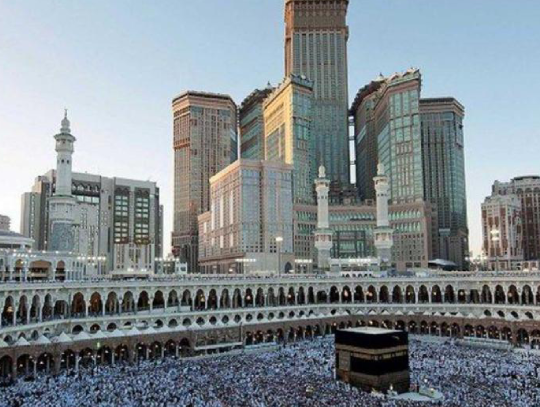 Online Platform For Booking Pilgrimage Services

Muslims perform Hajj and Umrah every year in a huge number of millions and seek Allah's blessings and forgiveness. They leave their homelands, kids and routines behind and devote their time just for the worship of Almighty and admiration of His grace and glory. The great gathering of Muslims represent the biggest manifestation of unity
Muslims perform Hajj and Umrah every year in a huge number of millions and seek Allah's blessings and forgiveness. They leave their homelands, kids and routines behind and devote their time just for the worship of Almighty and admiration of His grace and glory. The great gathering of Muslims represents the biggest manifestation of the unity of Muslims during the Hajj. Every Muslims going to Saudi Arabia for Hajj and Umrah also need to stay there or accommodate his/her self in the cities of Makkah and Madinah for the time required to stay until the journey ends. Saudi Government has allowed millions of pilgrims to stay in the country during pilgrimage every year and have allocated hotel rooms and spaces for the purpose. International companies are operating tourist cities like Makkah, Madinah and Jeddah. These hotels get occupied during the peak seasons of Hajj. Therefore, pilgrims are required to make these bookings in advance as it may be hard to get accommodation for your trip. The internet facility and availability of pilgrimage services online has enabled Muslims to book their desired hotels online with hotel room booking software.
Decision of accommodation during Umrah
Hajj season is the peak season when these hotels are booked already. The rooms and spaces are crowded and this should be a major concern while planning your trip. You should check availability of hotels before you finalize your trip with them. The facility of hotel room booking software is to make your trip even easier for you. The booking of your trip requires a complete provision of details from your tour operator as well as your own intention and preparations for the journey so that you know what to expect on getting there. Saudi Arabia has luxury and affordable rental apartments specified for Umrah and Hajj doers.
Agents managing Hajj and Umrah trips have partnered with these hotels to provide accommodation to their customers during Hajj and Umrah. Many companies are also providing Shifting Hajj packages and are offering accommodations to pilgrims far away from Kabah at cheaper rates.  Different types of accommodations are offered with different services and varying qualities. Hotels differ in 3, 4 and 5 star quality and addition of extra services for the comfort of pilgrims staying during worship. The agents and tour operators that are approved and affiliated with the ministry of Hajj in the kingdom of Saudi Arabia to assure your safe tour and avoidance of any fraudulency and illegal activity leading to harm. With hotel room booking software it is quite easy and convenient to find an accommodation of your choice and your desired preferences as it gives a complete view of the place you're selecting. You get pictures, details and services offered by the particular hotel you select. The testimonials about selected place help you explore a lot more about the place of interest.
Making your decisions easier
Haramayn Group has been serving people for many years in the performance of Hajj and Umrah journeys. We have online hotel room booking software to book your accommodation and services in advance and before time leaving no worries for the tour