Haramayn Group Hajj Operator System:
The Hajj operator system represents a certain type of web-based booking engine. And offering a wide set of tools for companies involved in the Hajj sector. These Hajj technology solutions serve the purpose of simplifying business management-related tasks. Hajj operator system can be of vital assistance to both B2b and B2C businesses as it gathers the entirety of essential components in one place, ready to be accessed by different users. It serves as a comprehensive online business platform where firms can set up and display their services.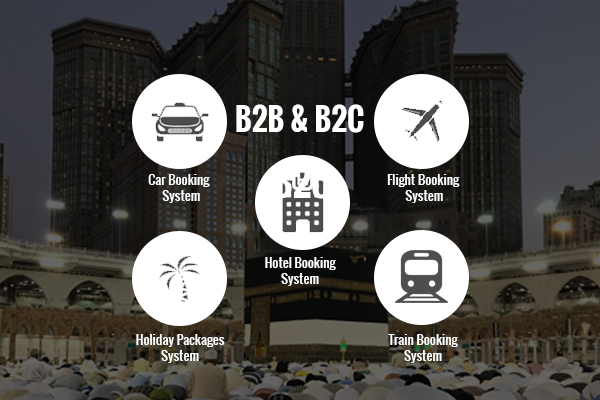 Technology in Hajj Industry
Technology occupying a major role in the development of the Hajj industry. It is expected that the latter will rely mainly on online platforms which allows Hajj businesses to grow a strong presence online. Haramayn group offers innovative Hajj technology solutions to help companies in the tourism sector gain more exposure and business opportunities. Our unique and perfectly designed solutions represent an exceptional chance to increase business efficiency and therefore business growth. It an inclusive and outstanding tool featuring a set of essential and wide-ranging services, offered by Hajj companies.
Features of Hajj Operating System
The set consists of a comprehensive booking portal fully customized according to the clients' requirements; airplane tickets booking, hotels and accommodation facilities booking, Transfers of all types, Hajj packages, ground services, and more, all available on one single platform. Our feature-rich online solution is powered by reliable suppliers who work hand in hand to deliver the very best of services in a highly competitive market.
Through the use of this perfectly tailored Hajj solution, companies will be able to benefit from broadly advantageous aspects such as a simple sleek Hajj business process, meticulously managed back office system, flexible content management structure. We provide services to small size as well as medium-sized businesses, allowing them to prove their value in the market. Our wide range of Hajj operating systems brought a revolutionary concept into the Hajj industry where Hajj has become a matter of simplified one-click process. Clients should thank technological advancement. They are leaning more towards online Hajj; everything is done online, with easy access and instant confirmation.
Whether your business is a small-size Hajj start-up company or a middle-scale firm with a long experience in the field and wishing to maximize your productivity and gain more exposure in the market. Our unique Hajj technology solutions are suitable and promise undeniable results in the short and long term. Our teams of dedicated and passionate persons take on the responsibility to meet your highest expectations and answering any business-related queries. We possess the expertise of a deep understanding of the Hajj field and broad know-how of clients' requirements. We aim at delivering B2B / B2C Hajj operator system and other Hajj technology solutions software that help facilitate Hajj business management on all levels.