The travel industry is expected to rely mainly on online platforms. Internet users nowadays plan their trips using online booking engines; each service provided one click away. Haramyn group is the leading online travel solutions provider, offering an innovative solution designed to assemble each and every services under one umbrella. Our passion and dedication to the field coupled with a broad experience enable us to provide forefront online solutions for online travel agents and clients alike. Haramayn Group Platform offers the latest technology at an affordable pricing, 100% reliable for a definite business growth and customer loyalty. We work with online travel agencies to increase their business growth and reveal further opportunities leading you towards success.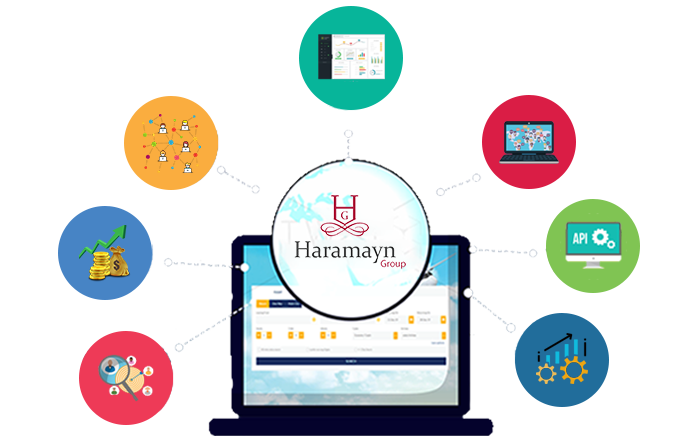 Haramayn Group- Your Trusted Partner in Providing Technology for Travel Industry Requirements
On About us page, fill the form and start your business easily.  Haramayn Group is continuously enhancing the travel businesses through the powerful and user friendly solutions which are designed to meet the ever growing demands of travel industry. Our various products are supported by an expert team in which people hold extensive experience in tours and travel industry. Many Global Umrah Agents are making use of cost efficient solutions to find the perfect bookings for their clients.
Haramayn Group is well trusted globally by Umrah travel agents. Haramayn Group makes Umrah bookings that much more easier whilst at the same time it saves you time and money. We have made partnerships with hotels and destination management companies that offer nonpareil opportunities on hotel bookings.
Haramayn Group has over 20 years of experience in the travel industry which gives us the perspicacious to provide the best services and solutions which satisfy the requirements of all the clients. We guarantee high performance, top speed, reliability and accuracy of all our systems as they are designed and developed on the world's best platforms. Trust Haramayn Group for the bookings of your clients and we assure you the best services every time to satisfy your requirements.
Why Choose Haramayn Group?
Haramayn Group helps the Global Umrah Travel Agents in the following ways:
We are one of the biggest travel solutions provider and Agents from around the globe use our system in order to search and book Hajj and Umrah Accommodations for their guests.
Haramayn Group is founded with an aim to provide technology IT solutions to travel organisations through its competent team in which people hold more than 20 years of experience in travel industry.
Haramayn Group has a team which holds rich experience in the development of user friendly solutions and all our products truly depict the talent of our team.
We not only provide the best solutions but also provide the 24/7 support to help and answer all the queries of the clients.