Haramayn Group is a leading travel solutions technology provider, our long rich experience as well as the deep understanding of the travel field climate and dynamics enabled the company to prove its presence in the highly competitive market. Through delivering cost effective and high performance travel solutions, we assist travel agents, tour operators and travel companies of different scales in creating an online presence and joining the online travel game.
The technological advancement has had a significant impact over the travel sector; this impact was proven evident in drastically simplifying the travel process and bridging the gap between travel suppliers and clients. Travelers who wish to plan their trip have been spared the long hours of waiting in line to purchase a flight ticket or the need to contact different booking offices to book services; nowadays online travel portals assembled the entirety of needed services within one platform, eliminating paperwork and the troubles of synchronization lack. Travel portals have been of great benefit to travel sector companies and businesses involved alike; allowing them to gain more exposure, attract more clients and receive undeniable results.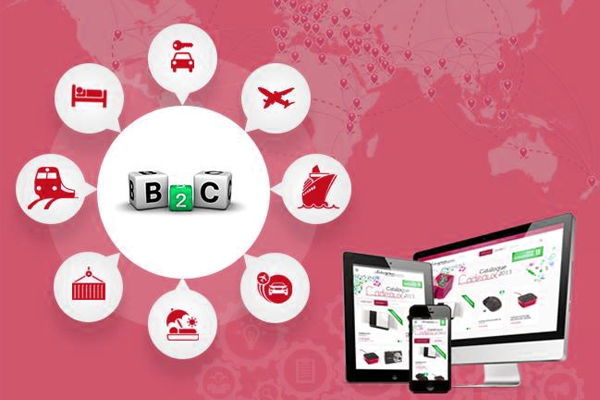 Haramayn Group specializes in supplying travel companies, tour operators and travel agents with various travel solutions softwares such as B2C travel portals; these portals serve as a comprehensive, feature rich and friendly user online reservation engine. B2C travel portals were designed as a self-service platform where clients can undertake the booking process on their own without a need to travel agents' assistance. Haramayn Group offers B2C travel portals design, development and maintenance services with the purpose of facilitating certain aspects of the travel field. We make use of our great expertise and unique vision in order to constantly construct innovative travel technology solutions.
Haramayn Group's exceptional B2C travel portals are thoroughly well designed and maintained to hold the multitude of travel related services : airplane tickets booking, hotel reservation system, tour packages, transfers, car rental and more, all of which is included under one single platform.
The comprehensive B2C services platform is set with an easily managed structural back and front office ensuring a high quality performance, hassle-free management and a timely effective online reservation system. Clients can utilize this powerful tool in a manner that will ease and make simpler their booking process. As for travel companies and other travel businesses, B2C travel portals offer an advantageous set of results on the overall image and company reputation as well as their productivity and growth.
With the B2C travel portal ability to be integrated with top GDS systems and third party APIs so as to allow your business an extensive online set up built perfectly to ensure clients are able to find each and every type of required services without having to visit different websites. Therefore, the previously mentioned feature represents a valuable asset in enhancing the clients' online experience and hence the company image among other competitors. Haramayn group's innovative and high performance B2C travel portals guarantee cutting edge results on the company's productivity and status.